YOU MAY ALSO LIKE
--- REVIEWS ---
Took about 3 weeks to get to me , the bundles are soft , no shedding , and Don't have a Funny smell , my frontal blends with my skin so perfectly! And Made very well , it came with a Cute Bandana! And Mink Lashes ! 100% Satisfied with Nadula Hair ! Will Definitely be making another Order

For those who are concerned with buying from this website..DONT BE. I got mines in 3 days of shipping and is very impressed with it.I got the 30 inch bundles and a frontal with my purchase for a good price (not too cheap and not too expensive)
NO SMELL...REALLY SOFT..GREAT QUALITY !...I will drop a few photos of the hair. THE LAST PHOTO ARE THE FREE GIFTS YOU GET WITH PURCHASING THE HAIR ❤️ I REALLY APPRECIATE THAT
--- DESCRIPTION ---
Product Name:

Body Wave Virgin Hair 3 Bundles With Lace Frontal Closure 13x4 Wholesale Nadula Human Hair Weave

Hair Color:

#1B Natural Black

Hair Length:

8-30 Inch

Hair Type:

Brazilian Human Hair, Indian Human Hair, Malaysian Human Hair, Peruvian Human Hair

Hair Texture:

Body Wave

Hair Weight:

95-100g/pc+60-90g closure

Lace Size:

13*4 Lace Frontal

Hair Weft:

Machine Double Weft

Hair Quality:

100% virgin hair, tangle free, no shedding, soft & bouncy.

Characteristics:

Body wave is the best-selling products, shiny and bouncy, smooth to touch.

Shipment:

Free shipping 3-7 business day to U.S, overnight express only to U.S 2-3 business day; Free shipping 7-12 days to Europe & Canada;

Payment:

Paypal, Western Union, Money Gram, Escrow, T/T

Processing Time:

Within 72 Hours(Working Days)
--- HAIR DETAILS ---
Details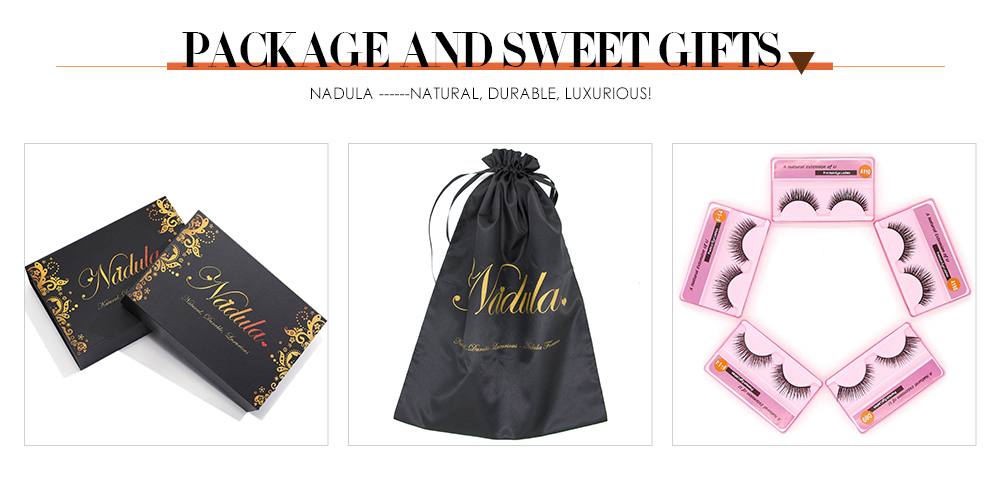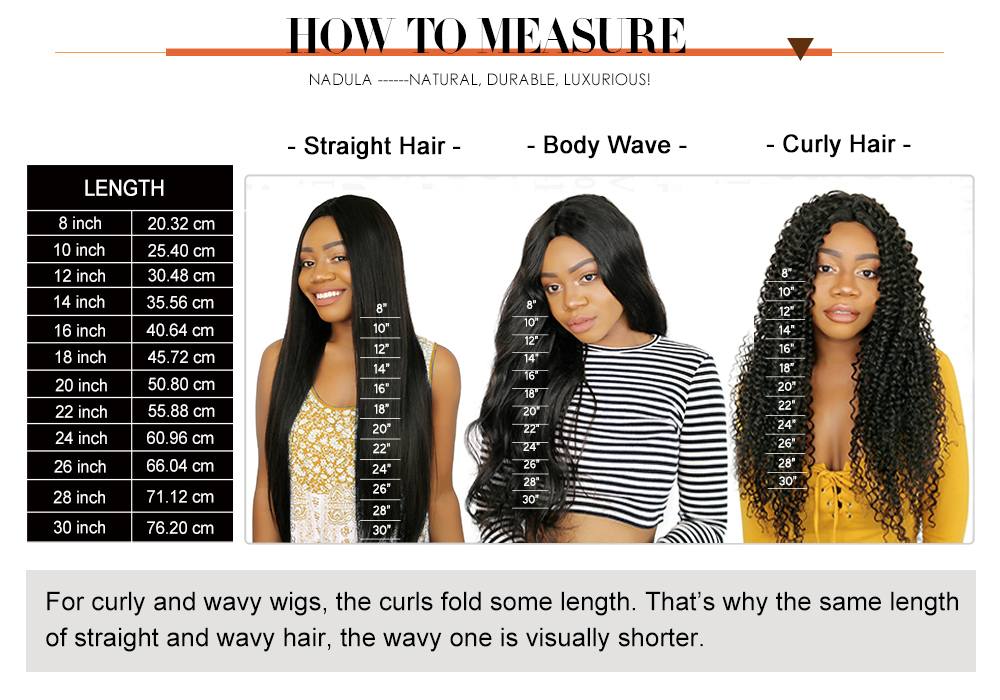 Reviews
Took about 3 weeks to get to me , the bundles are soft , no shedding , and Don't have a Funny smell , my frontal blends with my skin so perfectly! And Made very well , it came with a Cute Bandana! And Mink Lashes ! 100% Satisfied with Nadula Hair ! Will Definitely be making another Order

For those who are concerned with buying from this website..DONT BE. I got mines in 3 days of shipping and is very impressed with it.I got the 30 inch bundles and a frontal with my purchase for a good price (not too cheap and not too expensive)
NO SMELL...REALLY SOFT..GREAT QUALITY !...I will drop a few photos of the hair. THE LAST PHOTO ARE THE FREE GIFTS YOU GET WITH PURCHASING THE HAIR ❤️ I REALLY APPRECIATE THAT

These bundles we're soft and also shipped fast

the quality and everything about it was so great!Came so fast!

This hair is so bomb omg i loveeee ittt! Very beginner friendly as well!

Soft And Pretty Im so happy

This hair is incredibly soft no shedding or anything I recommend getting Malaysian

Fast shipping, I love the quality of the hair

Very nice hair and took heat in well and held the curls. Great for the price!

I've ordered hair from them before & It doesn't shedd & It doesn't get shorten when you put a lot of heat to it!!! Great Hair, I highly recommend this hair 


Nice, thick, and it looks so natural on me, i will definitely buy next time. My cousin referred me to nadula. Amazing quality and service.!!


it is very soft. Great seller and exceptional customer services. I will definitely be buying from them again.


Hair is amazingly soft. Frontal is very neat . The hair has no smell. Ordered Monday, arrived Thursday morning


Made my first wig ever with this hair & I LOVE how it came out. Definitely will be buying from this company again & would recommend 


soooooooooo happy with my order the hair is of good quality i love them ,order was in time good communication with the seller 


Hair was great . Had a funny smell at first but nothing some shampoo can't take out ! really soft also .


I'm loving the hair it's so soft, and hasn't shed yet. The vendors are lovely this is worth the price 


The lhair are really good qualities and beautiful. They curl or smooth easily. The delivery was fast and the sellers are very nice. I recommend it 


I had received the hair faster than expected. The hair is of great quality and would definitely recommend it to anyone.


I Absolutely love everything the hair smells so amazing

I just wanted to say thank you for your help with getting my order to the right address ! I was so scared it wouldn't be where it was supposed to ! I love the hair and I'm so grateful that y'all helped me the best way y'all could !


Okay I generally don't write reviews but this hair deserves GOOD RECOGNITION,


Absolutely love this hair. It arrived quickly and install was easy. Washing the hair does not dull it out, the shine comes right back!!! LOVE THIS HAIR!!!


I am shocked at how well this blends in with my hair! The color is perfect - seriously.


Omg omg what a fabulous product. I'm transitioning to my natural salt and pepper Hair and this product was perfect.


Ive been wearing the hair for going on 2 weeks. it doesnt shed that much. Dyed the hair, still holding up. I received the hair within 4 days i believe. Them mink lashes were fake and plastic af though. Ordered 161820 and 10 ear to ear closure. Didnt like the closure personally.

OK, the reviews are no joke. This seller is on point! She texted me back immediately, even with a 12hr time difference and she put my bundles in the mail so they came a day early! And free eyelashes at that. I'll follow up after I wash the hair, but I'm telling you it's quality and looks like I saved more than $100! I can't wait to follow up after I wash my hair.


I was skeptical on ordering hair online but once I read the comments I felt more comfortable. Got it and now I'm in love. Soft full no sheds worth wayyyyy more than its price.


It's very silky , soft , and smooth . I'd def. buy this hair again ! ✨


Its soft and it washed well but that factory smell still lingered until second wash and style so maybe wash twice. Its one install hair but worth it for price and customer service.


I am wearing Your hair !! I loved it

Y'all so I was a little scared for this hair because I've never ordered online and sometimes u know they're scams...I ordered this hair on a Friday I believe it came that following Tuesday I want to say. My hair came in a cute package and it had not really any smell to it. The hair is super soft and even after I've bleached it dyed it and used heat it's still softer than expected.and curl pattern on this hair is just beautiful.However the only thing is I didn't receive my lashes from them but it's okay the hair came and that was the most important lol. If you guys our looking for great hair quality at a low price this is the place ! Because I will most definitely be coming back!

This is my second time purchasing Nadula hair. My first order was Brazilian Straight Closure 18" 20" 22".. and I was so pleased with the hair. This time I ordered Brazilian Body Wave Frontal 14" 16" 18" and guess what? I am still very pleased!!! It took about a week for the hair to come because it was coming from China. I received it in a bag this time rather than a box. Immediately upon taking the hair out the packag, I noticed that it smelled sooooo good! No manufacturing smell at all!! Also, the hair is incredibly soft with little to no shedding. I haven't made it into a wig yet, but that's what I plan to do. Thank you Nadula!! I definitely will be ordering from you guys, AGAIN!! P.S. I'm trying to add a photo to this comment but it won't upload for some reason.

Great hair. Great customer service


The hair was wonderful over bleached it and now it's even better no shedding no smell came in 3 days when shipping was expected to arrive n two weeks I will buy again


Just received my hair! I absolutely love it! It's is very soft with lots of volume. I will definitely be purchasing again! Update* I made a wig out of my bundles and I must say that it has maintained is softness/volume


The hair is great, bundles thick and curls beautiful/ natural looking.....


I love this hair.. it's soft and the curls are perfect , I've gotten a lot of compliments


These hair are amazing real 100% human hair get my money's worth looking really beautiful


I love love love the hair I ordered 22, 24, 26 inches with closure only thing


it came exactly how it looks the weft is sewed tight and the hair is full and thick 


ahead of schedule and came with a pair a free strip lashes. There was no funny smell and the hair is amazing!


The hair is so soft and beautiful.


 I recommend this hair for anyone who is having trouble finding some good quality hair !


very pretty hair! i love it ! definitely worth my money


I love this hair . I will definitely be buying from Nadula again and telling everyone else to . I've fitting many compliments!!!

Shipping was very fast. This hair is beautiful, soft and ,smells wonderful!


I'm never disappointed . i ordered already 3 times and it came back in the 3 days every time

I love love lovvvveee this hair. I always order from this company. This hair is true to length, no shedding and no smell.


I bought this year a few months ago but and put it away and totally forgot about it until I was packing for my vacation.I took it with me and check with my stylist her opinion. She loved it and immediately bleached it...(she knows I love colors) and I had a full sewn a few hours later. I usually don't write review but I know the impact of having a trusted product that cost effective and of good quality...and this is one of that product. FINALLY!!!! I found a hair that I can afford and is of great quality.


Overall the hair is great quality for price. Has a nice wave pattern, even when i washed it and air dried the curls were even more defined.


Very soft! this hair is amazing! So natural! I'll be back!


Came faster than i expected. Great quality. No smell, no tangling and no shedding... i love this hair to be honest. Will be ordering again.


This hair is very good for the price!! It really does not tangle at all. I will purchase again!! I'm very satisfied with my purchase!!


Great frontal better than described, And I really love this hair so much. The texture was great.


The hair came very fast, soft and beautiful. I did measure the hair so it is true to length, no shedding I recommend and will buy again

I so much love this hair, soft and long..l received my order within 2days.....thanks Nadula,will definitely buy from you again!


I really liked the hair I had it installed a day after I received it and it was so soft the length was just right the packaging was nice and the hair had no smell I only kept it in for 2 weeks then had a wig made which I wear often but overall the hair was really nice I will order again in the near future.

Waited 3 weeks to post a review... Overall the hair is great quality for price. Has a nice wave pattern, even when i washed it and air dried the curls were even more defined. I had to use all 3 bundles as the bundles were kinda of thin.


My hair arrived thank you so much. I love the hair so far nice full, thick and soft can't wait to install. If the hair holds up to my expectations I will be a lifetime customer bringing over friends and family as well. Thanks again


Hey I loved it I always order from you guys always satisfied

I have picked up my package Thank you again will be shopping again soon. I will also send pictures as well

when the hair came I was a bit scared it had a shiny processed look which I know Brazilian is processed for that curl so no worries.I was a bit hesitant cause lables said china, and since I been doing research and having bad hair I just been wanting to stay away. But I was shocked how soft it was. Once bleaching the frontal knots there was little to no shedding . Love the hair line how its not straight across but your frontals help with the time it takes to make the hair line and pluck So that was a major plus. So I'm now over excited because I have finished my wig and have curled it and it's EVERYTHING

Just receive . I can't wait to install

Fast shipping ! Money well spent

I love this hair, I did some extra customizing to the frontal but the is in good condition.

Very nice hair and it take color very well

I love my hair. I've been ordering hair for the past 2 years and this is the only vendor who is consistently good with quality and service. I love my hair and I'm so thankful for how fast they shipped due to my circumstance. Thank you again.

This vendor always sends me amazing hair! I'm never disappointed! It washed well. No shedding and its sooooo silky and soft. The ends are good and lengths are generous. I made a wig with three bundles and a frontal. So happy with my purchase (per usual) I don't buy from any other vendor.

This company never disappoints. I am truly satisfied with my purchase.
Welcome back to Nadula Hair!
You got EXTRA 500 points by log in on Thursday and Friday!
Good Luck!
Spin To Win Sweet Gift!
Thanks For Your Register!