YOU MAY ALSO LIKE
--- REVIEWS ---
Soft, no shedding, no smell all around great hair. Will definitely be purchasing again
--- DESCRIPTION ---
Product Name:

Nadula Straight Virgin Hair Weave 3 Bundles With Lace Frontal Closure 13x4 Ear To Ear

Hair Color:

#1B Natural Black

Hair Length:

8-30 Inch

Hair Type:

Brazilian Human Hair, Indian Human Hair, Malaysian Human Hair, Peruvian Human Hair

Hair Texture:

Straight Hair

Hair Weight:

95-100g/pc+60-90g closure

Lace Size:

13*4 Lace Frontal

Hair Weft:

Machine Double Weft

Hair Quality:

100% virgin hair, tangle free, no shedding, soft & bouncy.

Characteristics:

Virgin hair acts naturally, shed free and comprises of thick & strong strands,not easy to break.

Shipment:

Free shipping 3-7 business day to U.S, overnight express only to U.S 2-3 business day; Free shipping 7-12 days to Europe & Canada;

Payment:

Paypal, Western Union, Money Gram, Escrow, T/T

Processing Time:

Within 72 Hours(Working Days)
--- HAIR DETAILS ---
Details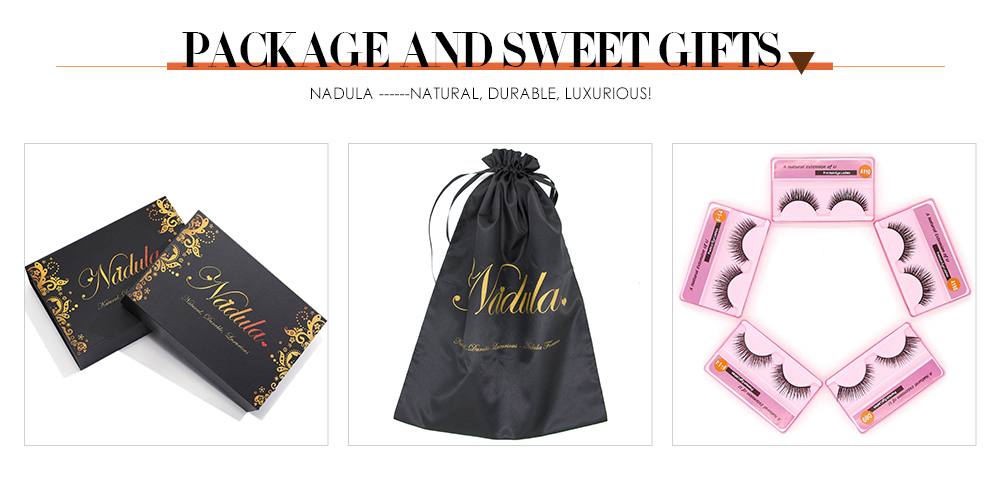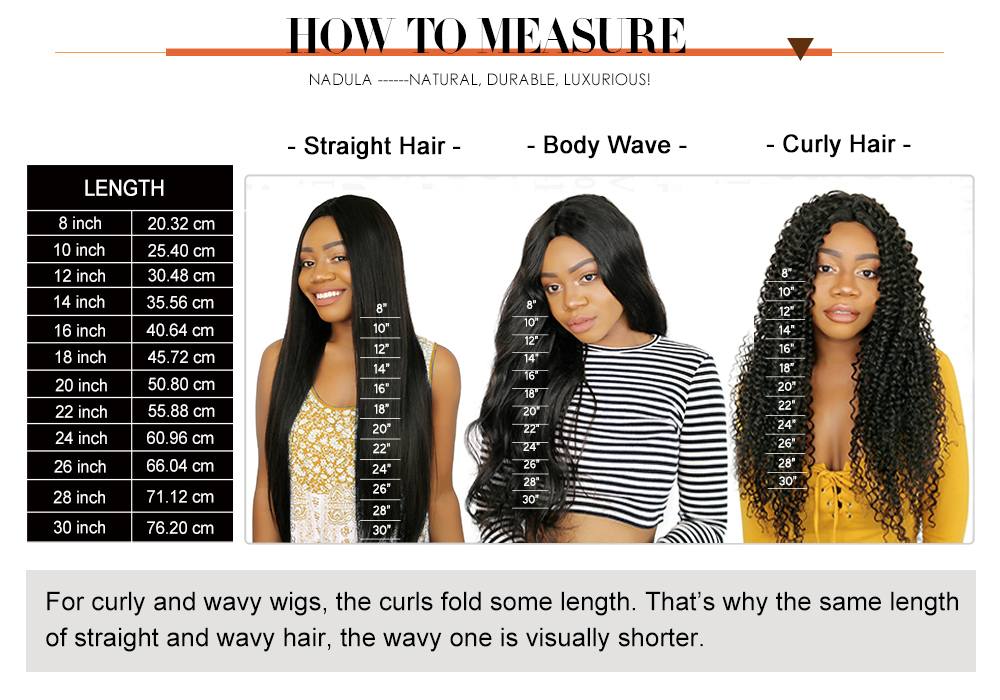 Reviews
Soft, no shedding, no smell all around great hair. Will definitely be purchasing again

I've had this hair for about a year now and it's still holding up. I deep condition it with the OGX extra strength hydrate + repair Argon Oil of Morocco conditioner and Nadula's hair works really well with OGX products and Schwarzkopf's Black seed and coconut oil conditioning polisher. It could use a new frontal because of usual shedding after a year, but the hair itself is still BOMB. With proper care, this wig will last!

I absolutely love my hair. I have been ordering from nadula for 2 almost 3 years now. Even though I continue to buy more hair I still have the first sets of bundles I ordered from here. I have not and dare not order from anyone else but nadula. They have great service the only company I know that sends text messages and respond to email in a timely manner. I will order again from nadula.

HAIR CAME IN TWO DAYS. NO ODER CANT WAIT TIL INSTALL

Received the hair love it thanks

I bought this hair for the school year in July and this an update. I still get many compliments and although the hair does tangle now since its been some months its still good quality hair and with proper care its even better. It holds a curl REALLY well and for days and I bought straight hair. Im satisfied and will buy again, hope this helped!

I've been buying hair from Nadula since my sophomore year of high school and I can honestly say I love their hair so much ! Great customer service in which they make sure you have your package and you definitely get your hair on time (fast shipping). The hair is super soft and minimal to no shedding at all. I will honestly continue buying from them

I bought this hair for the new school year and it was my first time buying hair online, and from Nadula. I watch Rebiana Simone's video on YouTube and she was right! Their Peruvian hair IS BOMB and I'm very happy with it. The service was great and so far Ive had it for about three weeks and it looks amazing still. Very minimal shedding and the hair reacts well to heat @400* when straightening it (I use a protectant) and the shampoo and conditioner I use does the hair well. I had it made into a wig by Nadula and the wig was made VERY WELL, this baby is flatttt and silky. Ive been getting a lot of compliments on campus and people have asked me where I got my hair done/from so I wrote a review! Hope this helps!

I just received my hair today!!! Was expecting the box that the hair came in with a previous order, but the little tote bag that it came in was so freakin cute.. This hair was sooo soft and smelled very good .. I'm more and more impressed with this hair company .. hair is true to length.. I used code n12 an received 42$ off 335$ very affordable hair for the quality... YouTube video coming soon...

I highly recommend this hair. Oh, the delivery was really fast.


Hair is very nice. Soft. Minimum to no shed.


Don't hesitate to buy. Hair came promptly in nice packaging. It has no funny smell, is super soft and is a good buy for your buck


Loved them! So soft and hardly any smell! This was my first time I've ever tried bundles and i absolutely had a great first experience!


The hair is soo soft and thick thank you nadula

I am for sure sticking with this company. The vendor is very sweet & professional! From the vendor, to the hair, it's a YES for me!


I love this hair is soo pretty and soft


I don't leave reviews but I love this hair


The hair came on time as promised and the seller stayed in contact to make sure the hair was delivered. The hair is silky, smooth, just love it! Its been 4 days and no shedding yet. I will buy more hair.


This hair is really nice ... soft and doesn't smell. It's been installed a couple weeks and it is still soft. No tabgles. I'm definitely buying again.


I'm so impressed I will definitely be purchasing more.... First the hair was delivered same day


Amazing!!!!!Will continue ordering


It's some good hair just take care of it and I only washed it with suave conditioner, let it air dry and styled it. Hopefully this helps you guys.


Hair Was Perfect No Shedding Arrived As Said I Got 28,26,24 and 20 inch frontal & I Love It !!


i love the texture. just fabulous. and with prime its delivery time is very fast. i recommend this product

Love this hair received it today and install it today I'm so loving this hair will be ordering again


Great hair. Kept it up for about 4 weeks and it still looked good. I was just ready for a different hair style.


 love love love the hair I ordered 22, 24, 26 inches with closure 


Delivery was quick order on a Friday received it on a Sunday, love the quality of the hair it's true to length, hair feels amazing


Arrived with no smells and very soft. It stayed soft and manageable and last


This is my initial review! The shipping was super fast. I ordered the hair on Friday it arrived Monday! The hair is soft, affordable, and has no smell. I love it!


This hair is easy to manage and soft ! Will buy again ! Yezz!

Love the texture of the hair and the delivery was very timely.... looking forward to installing this beautiful hair....


This is my first time ordering this hair. I Love this hair! Took color well. Feels amazing! Will be ordering again!


I always have low expectations when it comes to hair, and I've spent all lot of money on hair over the years. I was pleasantly surprised, this hair was clean and shiny and looks great. Hopefully it looks as good on me once I install. You can buy with confidence.


GOOD quality hair! Great price. Came in 2 days.Hair performs well and is nice and soft.


this hair is super beautiful and the texture is so soft no tangle and does not smell. I will definitely patronize this store more. the shipping was so fast as well. I will recommend you to buy from this store you wont regret it.


The hair was very full, and soft. Even after washing the hair with a clarifying shampoo it was still soft. DO NOT shed at all unless the wefts are cut, Very minimal. The Hair is great and the price was amazing. No weird smell and customer service WAS GREAT!!


I just made my wig and I'll come back for an update on this hair. I usually don't like writing reviews from first impression!!


The hair is lovely
I'll give you more reviews when I install it
Thank you for staying in touch!


The hair is soft and a bit more manageable after washing.


I love the hair! Best hair I've bought so far !! It does not shed & the frontal is good quality.

Hair is very soft, no weird smell , came very fast, when installed with update!

It's super soft and very nice and full! Bleached it twice with 40 vol developer and it maintained its texture and softness. Colored well as well!


Great quality hair! Great price. Came in 2 days on Prime. Sewn on to swim wig cap, bleached, toned, layered, 2x18", 1 1/2 - 20", 22", no closure, Silk Essentials Curl Defining Mousse and Creme of Nature Argan Oil Style and Shine Foaming Mouse. Hair performs well and is nice and soft.


The hair cam really fast! It's super soft and doesn't have a weird smell to it. I haven't installed it yet, but I've combed through the bundles and there wasn't any shedding. The only thing is I ordered two 22 inches and a 24in, the 24 inch isn't that much longer than the 22 it almost looks the same. Overall I cannot wait to put the hair in my head!!

OMG ! Thank youuu , I love the hair it's so full , thick & soft . I can't wait to get my unit made . You guys will definitely be getting another order from me soon !


I really like the hair so far it is really soft, thick and the lace frontal is strong too
I will leave a comment later today

Awesome this is my first time ordering hopefully I can order again can't wait for my hair . Thank you !

thanks! I loved the hair and most definitely will be doing a youtube review on it !

the shipment is so fast love this hair

Nice packaging and fast delivery

This hair is life and I love it it's my second time ordering from this company and I will continue to buy from them as long as they keep up the good work in everything they do May God bless them...thanks Nadula......Lovvvvve my hair and so does everyone else..... and shipping is great!

this hair does not shed, no smell, no tangling even after being washed multiple times this hair stays good...shipping is super fast I recommend this company to friends/family


No smells when it first came out the package .No shedding so far . Loving it !! Made a lace wig with the hair , good closure , holidays slowed my package up a bit but it was worth the wait.
Welcome back to Nadula Hair!
You got EXTRA 500 points by log in on Thursday and Friday!
Good Luck!
Spin To Win Sweet Gift!
Thanks For Your Register!